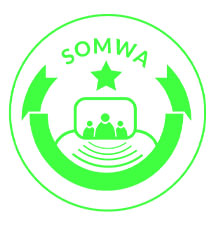 Somali Media Women Association (SOMWA) is non-profit, non-partial, non-politic and voluntary women journalist organization based in Somalia.  It was founded by a group of women Journalists from the region in January 2006 to address the issues focusing Somali female Journalists.
SOMWA is dedicated to increasing the presence of Somali women in the media, particularly harnesses the competencies and potential of its committed members to advocate for and give visibility to issues related to journalists
In Somalia, Women are being marginalized on the basis of culture and the women issues receive very little attention within the wider society. The anarchy situation and the civil wars have further aggravated the women situation and resulted in continuous abuse of their basic rights of education and security, and are subjected with rampant brutal violence and rape. Women are also denied to receive their fair share in political power sharing.
In the aftermath of the prolonged civil wars in Somalia that led to the total destruction, devastation of the country and the unraveling of its society, community organizations emerged to meet with the basic needs for their war-torn society. SOMWA is comprised of dedicated women and intended to use the Media is powerful tool for social change and agenda setting. SOMWA recognizes that gender inequality undermines the effectiveness of development policies in general.
Equal rights and equal opportunities for both, men and women is also a question of human rights. Because of women's limited access to education and other opportunities of the social life, their productivity compared to that of men remains low.
SOMWA harness the competencies of its committed members to give visibility to issues of concern to the society. SOMWA's challenge is to ensure that information on specific issues in disseminated widely to enable communities to make informed decisions. The association maintains excellent relations with journalists within the country in the various aspects of the Media be it the electronic and print Media, who are very supportive in the implementation of programs conducted by the association. SOMWA is committed to promoting the rights to and use of information to create a society that has equitable access to opportunities.
What we do
The specific objectives of the Somalia Media Women Association are to:-
Promote the rights to and use of information to create a society that has equitable access to opportunities.
Create an informed and resourceful society through professional development and transformation of the Media to enhance the status of women in Somalia.
Ensure balanced Media coverage of women issues by training journalists on gender sensitive reporting.
Mobilize grass roots level on women issues in order to enhance their awareness on good governance, freedom of speech and democracy
Collect information on domestic violence on women caused by the civil war.
HIV/AIDS control and eradication of female genital mutilation
Our Vision
We realize an improved the lives of women in which the Media in Somalia embraces and promotes gender equality for the full enjoinments and attainment of their sustainable peace, where every person is treated with dignity, good governance, democracy and respect for human rights.
Our Mission
Seek and promote an informed and resourceful society through professional development and transformation of the Media to enhance the status of women in Somalia & strengthen the local capacities to address their issue of needs in a transparency and participatory approach.
Our Core Values
Respect
Neutrality
Integrity
Fairness
Transparency & Accountability
Commitment
Stakeholder relationship
Our Goal
Our goal is to deliver high impact, cost effective, & culturally competent capacity building programs to women Journalists in Somalia.
Strategy
The formation of SOMWA provided the Somalis an intervention strategy to represent their common interests, perspectives. Organizational participation of gatherings would be employed as means of sharing information, experiences, and lessons learned on Gender Base Violence, human rights abuses and its elimination. Total participatory bottom-up approach would be part of SOMWA's strategies.
Sustainability
In order to ensure a smooth process of the journey towards the mission, SOMWA developed a strategy to empower the staff of SOMWA aimed at improving their planning and management skills. Tailored capacity building programs focusing on strategic planning, governance, management skills, financial procedures, Basic of Journalism were given to the members of SOMWA as well as other civil society groups. It is the Network's plan to continue the promotion of the necessary organizational, managerial and technical skills of the target civil society.
New professional staff was recently recruited in order to strengthen the efficiency of SOMWA services i.e. timely reports on the ongoing and completed projects.
On the other hand, SOMWA also looks forward to make relation with other international agencies to share experience and gain the immediate needed institutional capacity to respond effectively to the demands of its target groups. Although it is difficult to predict when SOMWA shall become financially self-supporting, SOMWA is now working out plans towards this objectives and it might take several years to come, as the situation of Somalia requires a long-term remedy.
SOMWA maintains good relationship with different local and international humanitarian and media organizations that are supportive women issue such as lobbying and promoting women members in SOMWA itself. These organizations are as the following:
Organizational Structure Overview
SOMWA is composed of a General Assembly, a Board of Directors, Management Committee (Executive Committee), Admin/Finance and Program Officer. The General Assembly, being the paramount organ of the organization, which constitutes representatives of the communities, meets every 3 years and elects the BOD, the Board of Directors is the decision making body of the organization, which comprises of 7 persons of hierarchal responsibilities. The organization also has a management committee that implements the resolutions and decisions of the Board.