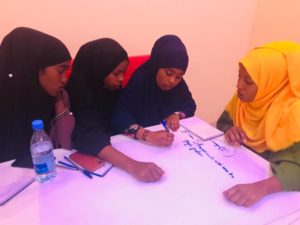 Somali Women Media Association (SOMWA) has held one-day training workshop for 13 female journalists on Wednesday in Baidoa city of Southwest regional state in Somalia on reporting elections in 2020/2021.
The journalists were given lessons on how to report during the upcoming one man one vote elections in Somalia.
SOMWA members and some other female journalists participated the workshop which aimed to enhance the reporting skills for female journalists in Somalia.
This followed by the reporting training workshop elections organized by African Union Mission in Somalia which was held in Kampala, Uganda on September and October 2019. SOMWA was part of that training.
The objective of that training workshop is to increase the capacity of the Somali journalists to cover the 2020/2021 election process.