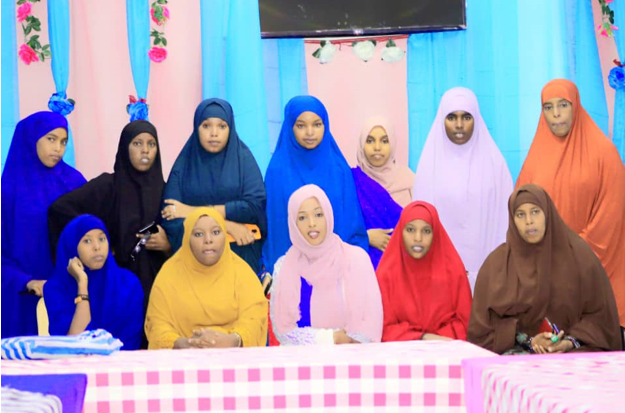 The Executive Director of the Somali Women Journalists Association (SOMWA) has reached Baidoa on 20-Jul-2019, the SOMWA headquarters to register female journalists working in Bay region and then interview them.
Firstly, the floor was taken to address by the chairman of the Somali South West Journalist Association (SOWEJA) Muhammed Hassan Husni said the number of female journalists in the region has increased but has not received training to improve their skills.
He also pointed out that they face other challenges from their parents who do not allow them to become journalists. He also points out that the highest number of journalists come to Baidoa.
Kaltuun Mustaf, one of the women journalists in the region, said she was happy with her media work but initially faced obstacles from her parents even though they agreed, Kaltuun said "it is important that we share work with men and do it but first we must get training to enhance our knowledge".
Shukri Mohamed, also one of the journalists, emphasized the importance of having a lead on the path of progress and participation in media management such as directors, editors and programmers.
Hilaal Sheikh Shuceyb Director of Radio Warsan who spoke at the event encouraged the girls to continue work after their marriage and she also pointed out that it is very important to have the skills to develop professional skills for journalists.
She also pointed out that girls face violations during the course of operations and is called a minimum to report to address and prevent.
It is noteworthy that some girls reported that they fear their parents to terminating their jobs so the journalists changed their real names in order to do the work the job they liked.
One of the girls said she was married to her cousin but months later convinced her parents to work in the media.
Girls in Somalia, especially those who work in southwestern Somalia, need to improve their skills to reach the media level.
Annex 1
List of participants
Board of Directors
Shukri Mohamed Abdi. Chairperson
Maryam Macalin Abshir, Vice Chairperson
Rahma Salad Abdullah, Member
Kaltuma Mustafa Nuur, Member
Fa"iza Amira, Member
Istar Mohamed Nur Member
Nura Abdirahman Akuush Member
Program Staff
Maryam Seyla, Executive Director
Koos seylac Admin & Finance Officer
Seynab xaadow Program Officer
Hinda ali Osman Project Assistant
Fardowsa A.qaadir Mursal Project Assistant
Deeqa Ibrahim Abukar                Project Assistant
Shukri Ismail Project Assistant