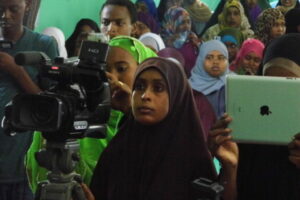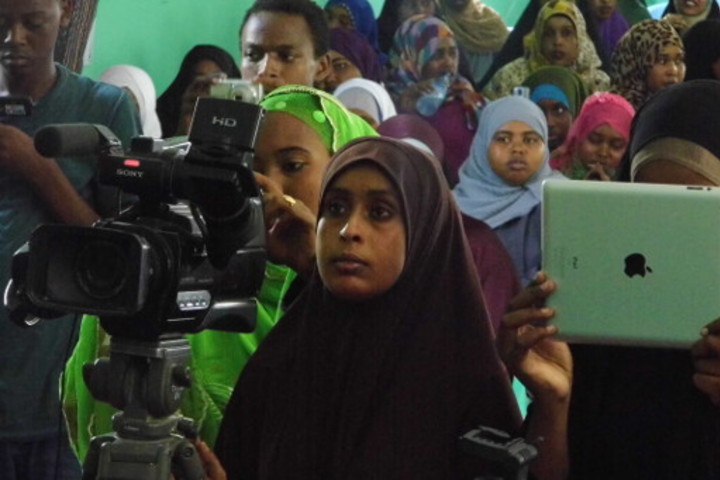 The growing popularity of digital media was supposed to give women in media visibility and safety but instead, it's making women journalists more vulnerable. Somali female journalists are negatively affecting the increased online and offline harassment against them. The level of violence, threats of violence, and intimidation directed towards female journalists have knocked down their confidence and have a bad impact on their mental health.
Maryan Omar, one of the few photojournalists in Somalia, has bravely expressed her feelings of online and offline harassment and violation. She told SOMWA that she very often receives threats, hate, and violent online message from many misogynists.
She told SOMWA that among the messages she receives are 'stop lying to the public' and stop teaching our Somali women inappropriate behavior which is against our religion and encouraging them to come out of their homes'. "You are paid small money to spread liars about our religion and we will not accept that." said in the message.
BBC Africa eye documentary named (Somali, ME AND SEXISM) published on February 2022 has shown shocking cultural view that men have over women, these men strongly believe that women's bodies are created for men to enjoy and should remain at home, and men will be the breadwinners and provide income for women.
The documentary in which Maryan Omar was interviewed has revealed the emotional abuse present in the society for example women cannot carry up a camera because this is men's job and it is too heavy for her to lift while Maryan was insisting that she can and loves her job as a camerawoman.
Although it can be said there is some acceptance that women could be out of the field and collect news, however, there are plenty of people who harass female journalists offline for their gender.
Maryan Abdi Hussein, a former Puntland TV reporter told SOMWA that men catcall her when she is out doing her job. According to the female journalists interviewed by SOMWA, Women journalists who have a big audience online platforms are the most affected by online violations.
Kiin Hasan Fakat, former Jubbaland TV program producer who spoke to SOMWA, has emphasized that misogynists will always do whatever it takes to make sure that women journalists lose their confidence to post anything on their social media, she said she knows colleagues who think twice before they post online because they fear of misogynist to badly react on their posts.
One of the female journalists who experienced online harassment is SOMWA's executive director Maryan Seylac who told us that some social media platforms have created Facebook accounts under her name without her knowledge and some others use her images to insult politicians and other inappropriate activities.
Maryan said 'I have come across some social media platforms who were impersonating me, these people were not normal people they were actually insulting some giant politicians who have big supporters, and that scared me, because some of these supporters may not know that those accounts were not mine so they may start harassing me.
"I had times when I was working for some Somali TVs where I used to receive worrying messages and I did not want to go through that again. So, thanks to some of my colleagues who reported some of these accounts to Facebook company, and thank goodness they have been shut down." Seylac said.
This article had shown that there is clear misogynist discourse when it comes to sexist comments directed towards female journalists and the result points to the fact that the nature of the threats and intimidations differ between the genders: female journalists receive sexualized threats, harassment, and intimidation much more frequently than their male colleagues and the common purpose for the severe threats and sexual harassment is to scare off and silence the voice of women journalists, as the result of these pressure some female journalists had an impact on their reporting.
Many of them choose not to report about a particular topic that may attract threats and hate attacks and the number of female journalists who considered quitting their jobs due to online trolls is considerably higher. It is believed the number of female journalists who face online trolls is much higher than recorded because most of them do not discuss it as if It is their fault, some of them feel empress to talk about while others do not even realize that they are a victim.
Meanwhile, there are no explicit laws and policies in Somalia that recognise online violence against women journalists and Somali women in general.
The Sexual Offence Bill (SOB) which was supposed to combat violence and harassment against women and girls including female journalists which the federal government passed in 2020 has been rejected and returned by the federal parliament claiming that the Bill is not in line with the Islamic religion.
It is very clear that there is an urgent need to empower women journalists to report gender-based violence against them and also, need for a law that protects female journalists against any form of abuse.